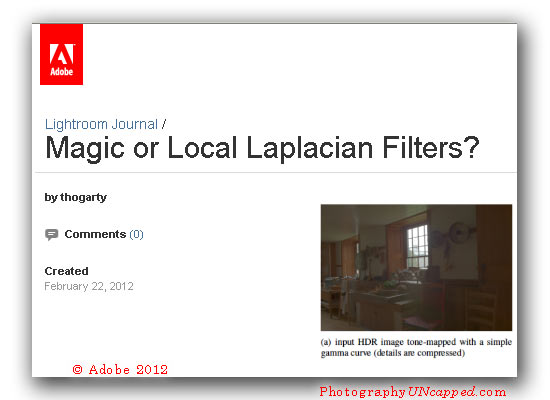 The new Raw image processing features introduced into Adobe Photoshop Lightroom 4  are truly wonderful. Raw files, previously processed in earlier version of the plugin, reveal new details and qualities. (See Lightroom 4 / Adobe Camera Raw 7 / Photoshop CS6)
Tom Hogarty of Adobe Lightroom has written a small piece in his Lightroom Journal on the technological background for the new (PV2012) processing method. Warning: It's definitely technical!
You can try the new version for yourself, using the Free Adobe Lightroom 4 Beta download, and view some of the features in an Adobe Sneak Peek Video – Adobe Camera Raw 7
I have really enjoyed using the new 'top to bottom' workflow, and have gotten better results, faster, than I could before with the very same Raw files, specifically NEF's, in my case. This is a significant advance in Raw processing that will make a big difference in your, and everyone's photos.
Sometimes, new features are a bit, well, ho-hum; sometimes they have a 'wow' factor; and sometimes they are quieter, but far more affective. This new PV2012 process is one of the more quiet but really important ones.
Lightroom 4 Beta -FREE Download
Magic or Local Laplacian Filters? – Adobe Lightroom Journal
Tom Hogarty's Lightroom Journal – Adobe Blog
Adobe Sneak Peek Video – Adobe Camera Raw 7 – Video